Social prescribing is a key component of Universal Personalised Care. Social prescribing is a way for local agencies to refer people to a link worker. Link workers give people time, focusing on 'what matters to me' and taking a holistic approach to people's health and wellbeing. They connect people to community groups and statutory services for practical and emotional support.
Social prescribing works for a wide range of people, including people:
with one or more long-term conditions
who need support with their mental health
who are lonely or isolated
who have complex social needs which affect their wellbeing.
A standard model of social prescribing has been developed in partnership with stakeholders, which shows the key elements that need to be in place for effective social prescribing;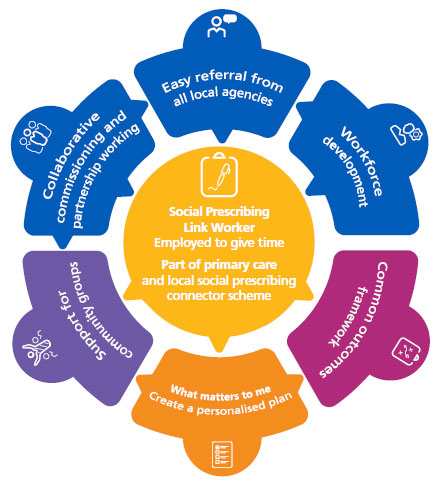 Social prescribing complements other approaches, such as active signposting. This is a 'light touch' approach where existing staff in local agencies provide information to signpost people to services, using local knowledge and resource directories. Active signposting works best for people who are confident and skilled enough to find their own way to services after a brief intervention.
In the Long Term Plan NHS England committed to building the infrastructure for social prescribing in primary care:
there will be 1,000 new social prescribing link workers in place by 2020/21, with significantly more after that, so that
at least 900,000 people will be referred to social prescribing by 2023/24.
This is part of the drive to Universal Personalised Care that will see at least 2.5 million people benefiting from personalised care by 23/24.
Social prescribing link workers are becoming an integral part of the multi-disciplinary teams in primary care networks (PCNs). They are part of the additional roles in the five year framework for GP contract reform and are included in the Network Direct Enhanced Service Contract for 2020/21.
This is the biggest investment in social prescribing by any national health system, and legitimises community-based activities and support alongside medical treatment as part of personalised care.
Social prescribing relies on trusted local relationships between agencies. Link workers need to know the community groups they are referring people to and help them to manage referrals, so they are not overwhelmed. This can only be effectively done at a local level, which is generally not bigger than a CCG or local authority footprint, depending on how rural the geography is.
It's difficult to see how one agency could provide social prescribing across a whole STP footprint, because of the need to build trusting local relationships. Where it's working well across whole STPs, there are a number of 'local hubs', working at a manageable scale, but connected and learning from each other.
You will need to measure the effect that your work has on people's wellbeing. If you are part of an existing scheme you may already have a system for doing this, and you can continue to use that. NHS England are asking all link workers in PCN multi-disciplinary teams to use the ONS Wellbeing Scale and the Patient Activation Measure (PAM) to create national social prescribing data for the first time.
Whichever approach your PCN uses, you will need to work with your colleagues to develop ways of recording this information securely, and in a way that can be shared further down the line.
The work that you do will have an impact on local community groups and VCSE organisations involved in social prescribing. It is important that you measure this. You should carry out a brief 'confidence' survey with these organisations every six months.